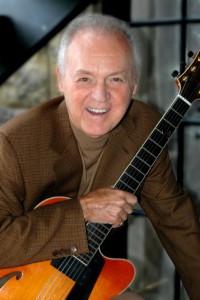 Celebrating Joe Negri and his Music at the Kean Theater
 By Marianne Reid Anderson
Joe Negri is one of the most beloved and talented artists that Pittsburghers have the joy of calling one of their own.
This incredible jazz guitarist got his beginning at a very early age when he started as a child performer using a ukulele to accompany him. Then, when he was only seven years old, he got his first guitar. By the time he was fourteen, he was focused on the guitar. "I was inspired to become a jazz guitarist by Charlie Christian who performed with Benny Goodman and his orchestra," explains Joe. "He was one of the first players of the electric guitar and with the amplification, he was able to take the guitar from just being a rhythm instrument and made it a truly vocal instrument. I thought his work was outstanding and has been a motivation ever since."
Joe's career has spanned decades as a performer, composer and studio musician. He has several CDs of his own and has been featured on recordings with Itzhak Perlman, John Williams, and Michael Feinstein, among many others. His jazz choral composition, The Mass of Hope has received critical and artistic acclaim, as Joe has himself has, earning most recently "Established Artist of the Year" (1999) by the The Pittsburgh Cultural Trust, the Mellon Jazz Community Award (2000), and the coveted "Elsie Award" (2004). Duquesne University recently presented Joe with an Honorary Doctorate in Music that he cherishes.
Back when Joe was musical director for WTAE-TV in Pittsburgh, he met Fred Rogers who was there doing a show that was a precursor to his PBS show, Mister Roger's Neighborhood. "Fred would have me walk around and talk to the puppets,' shared Joe. "Then, when he moved over to WQED and PBS, Fred called me and asked me to be 'Handyman Negri.' I told Fred, 'You know, in real life, I am not very handy. Fred said that it would be okay because everything in his show was going to be 'pretend.' I knew I could pretend to be handy so that's how I became 'Handyman Negri'."
Being Handyman Negri provided Joe with nationwide, television exposure and was a key performer on the show from its inception.
Joe recently saw an interview with other celebrities that are in their 90s that included Carl Reiner and Dick Van Dyke among others that also have no interest in retiring. "I agree with them," says Joe I still enjoy performing, being with the audience and so long as my fingers are still working and I can play, then I'm going to keep going. After all, as one of my dear friends recently pointed out, at my age, I've had a lot of practice."
Joe Negri will be appearing at the Kean Theater on jazz guitar along with Max Leake on piano, Tony DePaolis on bass, and Tom Wendt on drums on Friday, August 11, 2017, 7 to 9:30 p.m.
The Kean Theatre, is conveniently located at St. Barnabas – 5847 Meridian Road, Gibsonia, PA  15044
There will be a cash bar and tickets are on sale at the door:  $25.00 per couple/ $12.50 per person.
Proceeds benefit the St. Barnabas Free Care Fund. The St. Barnabas Free Care Fund provides more than $6 million to needy patients at St. Barnabas Nursing Home, Valencia Woods at St. Barnabas and The Arbors at St. Barnabas who cannot afford their care.
For more information about contact Brooks and Helen Bartlett at (412) 366-1035, or email TheBartlettPair@aol.com or to learn more about this amazing local musician and celebrity and read a beautiful testimonial by his granddaughter, visit http://joenegri.com.
---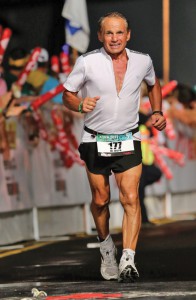 Put a Spring in your Step- Keeping Muscles Strong as You Age
By Joseph Maroon, MD
It's spring again and with warm weather the urge for many is to get back into shape. Unfortunately, as we age we can become less flexible and lose muscle mass making exercise difficult and increasing the risk for injury. Another major consequence of muscle loss is a greater risk of falling.
Changes in connective tissue and muscle are often related to prior overuse or reduced physical conditioning.  In addition, ligaments and tendons begin to dehydrate due to reduced production or retention of lubricants.  Calcium deposits build up and muscle fibers are replaced with fatty, collagenous fibers that reduce joint mobility, muscle tone and strength.  The good news is for many; age-related muscle loss can be prevented or even stopped with better physical activity and specific dietary choices.
Chronic muscle loss affects 30% of people older than 60 years and more than 50% of those older than 80 year.  Muscle loss as we age is associated with a four times increased likelihood of disability, such as the need for canes and walkers.  It is estimated the cost for treating musculoskeletal disease exceeds $800 billion annually in the US.
What CAN be DONE?
First and foremost is exercise.  In order to improve joints, muscle, bone, balance and mobility you must begin a regular exercise program.  Walking just 30 minutes a day, every day, is enough for many people to maintain muscle tone and strength and help reduce the loss of calcium from our bones.
For most muscle groups, resistance training with even very light weights has a positive effect on muscle mass.  Working out in a local gym or health club may be ideal but home exercises can work just as well.  Using a sturdy sac with handles and filled with 5 or 6 soup cans can be just right for some people.  The keys are to warm up the muscles first with range of motion exercises followed by low weights but high reps.  Like any new exercise regime you should clear it with your healthcare professional first.  And remember if something hurts – stop – to prevent injury.
Muscle Mass and Proper Dietary Protein
The reasons for muscle loss are many and involve reduced use, hormonal changes, decreased protein synthesis and reduced protein consumption to name a few.  Since activity and diet generally play a major role, both are important to address.  Reduction in dietary protein begins to occur after about the age of 35 years in most people.  About 25% of men and 35% women consume less than the current Recommended Dietary Allowance (RDA) of dietary protein. Combining daily protein consumption with a variety of amino acids along with exercise is superior to slow or prevent muscle loss, increase strength and reduced fat mass, compared to those not taking increased protein.
The amino acid leucine, found in cheese, soybeans, beef, chicken, pork, nuts, seeds, fish, seafood, and beans, is required for the manufacture of new muscle cells.  Critical amino acids are found in both food and protein supplements.
Although radical diet changes can be unhealthy, there are both food and dietary supplement protein sources to prevent or reduce muscle loss as we age.  Increasing your dietary protein should be discussed with your healthcare provider if you have any significant health problems, especially kidney disease or insufficiency.  But for many, the combination of increased resistance training and adequate protein supplementation will result in better muscle tone, improved bone health and hopefully a safe and active spring.
---
Peripheral Neuropathy Sufferers Have HOPE
Are you being told, "There's nothing to be done?" or that, "You need to learn to live with the pain?" Are you being over-medicated with pain medicines that don't cure? Have you been through test after test with no result, explanation or treatment? Are you becoming discouraged?
A specialized treatment protocol is available at the Chiropractic Family Health Center. It includes nine specific treatments that are designed to heal rather than just deal with the symptoms. This therapy has long been well-recognized internationally, and recent advancements offer hope for many more to live a more pain-free and enjoyable life. Peripheral Neuropathy occurs when nerves are damaged or destroyed and can't send messages to the muscles, skin and other parts of the body. Peripheral nerves go from the brain and spinal cord to the arms, hands, legs and feet. When damage to the nerves takes place, numbness and pain in these areas may occur. Unlike laser therapy that does not address the involved damaged small nerve fibers or home light therapies that do not offer all the frequencies needed to heal them, our program utilizes state of the art technology with combined therapies to restore life to the dead nerves. Approximately 20 million Americans suffer from this debilitating disease. It is commonly associated with diabetes, however, neuropathy symptoms can also occur in patients with restless leg syndrome, sciatic neuropathy, and has been recently linked to statin drugs used to lower cholesterol. Although, there are also patients who just have neuropathy without a particular cause. Peripheral Neuropathy symptoms can include: n Sharp Pains or Cramps in the Feet or Legs n Burning Pain in the Legs, Feet or Hands n Extreme Sensitivity to Touch n Loss of Balance or Coordination n Feelings of Walking on Pins and Needles n Weakness in the Arms and Legs n Numbness and Tingling or Pain in the Toes, Feet, Hands, Arms and Fingers n Dependency on Medications Many patients are suffering from symptoms of painful cramping, burning and tingling, difficulty walking, numbness and even interruption of sleep. Dr. Shawn Richey (a member of the NeuroTCA) has seen hundreds patients suffering with peripheral neuropathy. He has treated patients that have tried everything including potentially harmful medications and other painful testing and treatments. This can leave patients still struggling and wondering down the long road of endless disappointment. Now we are able to address the pain associated with peripheral neuropathy with a successful, non-invasive, drug-free approach that includes the use of light therapy to stimulate tissue repair. This ground-breaking treatment has achieved a 90% overall satisfaction rate. The treatment identifies the cause and enables nerve endings to regenerate and heal rather than remain damaged. As the treatments repair the nerve endings, pain is reduced, and patients regain balance and coordination. Dr. Richey has helped hundreds of sufferers of peripheral neuropathy throughout the region, he has expanded his practice to include Westmoreland as well as Allegheny Counties. Chiropractic Family Health Center now has offices in both Sewickley at 2591 Wexford-Bayne Road, Suite 207 and Latrobe at 1901 Ligonier Street. "Our second location in Latrobe will be much more convenient for all our patients in Westmoreland County to receive their treatments and enable us to help additional sufferers of peripheral neuropathy, in both regions," explains Dr. Shawn. n For a FREE Consultation contact
Dr. Shawn Richey at (724) 940-9000 and your appointment will be made at the location that is most convenient for you. To learn more, visit
www.backnline.com.
Here's What Dr. Shawn's Patients Have to Say…
"I suffered from peripheral neuropathy for 17 years. It felt as if someone was constantly torturing my feet with electric shocks. Not only did it hurt to sit or take a drive anywhere, but night time was even worse. I could never get a good night's sleep. No position eased the pain and I couldn't stand the sheet or blanket to touch my feet. When I would take a shower, it felt as if I was being electrically shocked with each drop of water that hit my feet. Test after test, doctor after doctor, there was no result or help. I was even told, "There's nothing to be done; you're just going to have to live with it." I do not have diabetes. But, it was getting progressively worse over time. I had seen Dr. Shawn's ad and realized I had nothing to lose. After only one treatment, I was able to get a good night's sleep and was able to take a shower without pain! Now, having completed several sessions, I am 90% without pain and some days, I am 100% pain free! I have a new lease on life and am doing things I thought I could never do again. I am thankful for Dr. Shawn every day." – Paul, Wexford
A dear friend of mine from Pittsburgh saw Dr. Richey's ad in Pittsburgh Fifty-Five Plus magazine, the
sister magazine to Northern Connection magazine. She sent it because one of the stories was just like I was experiencing. I had a reaction to my cholesterol medication where my feet were constantly burning and it was getting worse. They switched up my meds. They took me off the meds. I endured horrible, painful testing. Nothing helped. Finally, the doctors all just gave up. All the doctors said there was nothing they could do and that I was just going to have to live with it. I didn't know what I was going to do. The pin was getting worse and worse. So, the instant I saw the ad, I had hope. I had direction and a mission. I came up to Pittsburgh to be assessed by Dr. Richey and felt relief after the first treatment. I stayed in Pittsburgh for six treatments and then Dr. Richey helped me get a home kit for the rest of the treatments. I have continued on and I continue to get better. Now, my brother in Sacramento, who is also experiencing peripheral neuropathy, is going to get help too. Thank you Dr. Richey for helping us all and many thanks to my dear friend for sending Pittsburgh Fifty-Five Plus magazine to me in North Carolina. – Ron, North Carolina
Two Years Later… "I was in pain from peripheral neuropathy for 12 years before I found Dr. Shawn. I noticed a difference after the first treatment. I even danced my way into his office for my second appointment. I so believe in the treatment that I have become a neuropathy specialist and assist Dr. Shawn. I am so pleased to see wonderful results in patients that relieve them of the pain that I once endured myself." – Lynn, Jeannette
---
Surprising Household Hazards
By:  Peter J. Piotrowski, State Farm Agent
Your home has well-lit stairways, household cleaners in an upper cabinet and smoke detectors with fresh batteries — so it's safe, right? Here are some potential household dangers you may not have considered:
Electronic appliances: The advanced features on today's high-tech appliances make them easy to use. But electronics can short circuit and lead to kitchen fires. From burner ignitions that turn on "by themselves" to refrigerator light bulbs that stay on and overheat, watch for warning signals: Display panels often flash unusual messages if there's a problem.
Powered-up treadmill: The rotating belt can cause friction rashes, broken bones and snagged clothing in an instant. Keep the treadmill in a closed room, turn off the power switch (or unplug it) and store the safety key away from the machine so that children can't accidentally turn it on.
Refrigerator magnets and coin/button batteries: Though convenient, small magnets are potentially dangerous for your children. Keep the magnets high and out of reach. Beyond a choking hazard, if swallowed, they can harm kids' stomachs and digestive tracts. The same is true for coin lithium "button" batteries. Tape shut battery doors on items powered by coin batteries so kids can't access them.
Malfunctioning garage door: Regularly test your garage door to make sure it operates smoothly and retracts when an object is in its path. If not, it could injure anyone walking or standing underneath. Call a professional if the garage door, spring, or sensors need repair — you shouldn't tackle this job yourself. They can ensure the correct installation necessary for your safety.
Plastic packages: Trying to open rigid "clamshell" packages with knives or scissors can cause cuts and puncture wounds. Plus the sharp plastic can gouge skin. Instead, use tin snips, a manual can opener or scissors specially designed for this purpose.